Carsharing is an innovative urban mobility concept and another option that the airport offers its users.
Located in the 7 car park, close to the Hotel TRYP, this service allows the shared use of vehicles with rates by the minute and is an excellent choice if you need to travel to or from the airport.
For more information about this service, visit our partners' websites: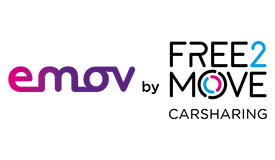 benefits of using carsharing:
 
Easy to use – by registering online and downloading the app, you can have access to vehicles 24 hours a day at the most convenient location;
Freedom – you can collect a vehicle at one place and leave it at another, since you can start your journey and park the car anywhere within the area covered by the service;
Variety– an extensive choice, ranging from electric vehicles to top-of-the range marques powered by traditional fuels;
Sustainability – reduces the number of private vehicles on the roads in the cities, helping to ease parking and traffic problems; and, in the case of the electric cars, the system bolsters our commitment to be eco-friendly by reducing CO2 emissions;
Economical – low rates, no need to book ahead, monthly rates and set prices; pay for the amount of driving time; fuel (or battery, in the case of electric cars), parking, insurance and tax are all included in the by-the-minute rate; your registration fee is converted into driving minutes.